News image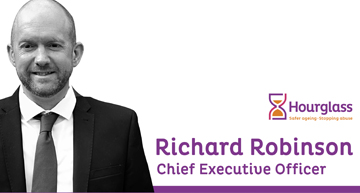 Action on Elder Abuse recently relaunched as Hourglass. As a research team we at HSCWRU have long taken a strong interest in this area, so we are very pleased to post this piece by Richard Robinson, CEO of the charity, in its new guise, and as it nears its 30th birthday.
On 24 March 2020, as a nationwide lockdown was announced in a bid to protect UK citizens from the coronavirus pandemic raging across the world, Action on Elder Abuse relaunched under the name Hourglass.
While the timing was extremely challenging, the rebrand was a necessary effort to mark the start of the charity's new course as a modern, public-facing organisation building on our almost thirty years of experience. If we were to modernise and become sustainable as a charity, we had to redefine ourselves so that we could successfully champion safer ageing and break down the barriers that foster age-related vulnerability.
The Hourglass mission is simple: end the harm, abuse and exploitation of older people in the UK.
One in six older people are victims of abuse every single year. That's over 16 percent of our mothers, fathers, uncles, aunties, grandmas, grandads, friends and neighbours.
However, according to our research, only about 0.7 percent of crimes against older people result in prosecution. This leaves more than a million older people across the UK vulnerable and in need of support.
The need for a charity like Hourglass is greater than ever. Recent polling carried out on our behalf revealed that 34 percent of respondents felt that 'acts of domestic violence directed towards an older person' did not constitute abuse, and almost half (49 percent) did not view 'not attending to an older person's needs in a timely fashion' as abuse.[1] In times of isolation and shielding vulnerable people from COVID-19, instances of abuse and neglect are on the rise, with calls to our confidential Helpline increasing by 25 percent since the lockdown began.
To relaunch and refresh the charity—even in the midst of a global crisis—represented a once-in-a-lifetime opportunity to make a fresh start. It allowed us to broaden our aims from focusing only on the abuse of older people to enabling safer ageing for all, and to make the necessary strategic and operational changes so that the charity can continue its vital work for years to come. While the majority of our work is still dedicated to stopping abuse and working with those affected, we're expanding our efforts when it comes to campaigning, conducting research, and collaborating with other organisations to build a fairer and safer society that people can grow older in safely and securely.
As Hourglass, our overarching aim is to become the leading charity to fight the abuse of older people and the charity of first choice to provide expertise, knowledge and dedicated services for safer ageing. By our 30th anniversary in 2023, we will have fundamentally extended our reach across the whole of the UK and further afield.
With an ageing population, we need to turn the hourglass for millions of people before it's too late.
But how will we achieve this?
Hourglass is far more than just a helpline. We are a charity that collaborates with key stakeholders and other frontline organisations to nurture our safer ageing agenda. We are creating programmes that change lives and ways of thinking.
This isn't about growing old gracefully. Safer ageing is about creating environments and procedures so that older people are not put at risk of abuse or neglect. Just as crucially, it's about empowering older people so they can live their lives independently with full trust in those around them.
We are urging legislative change; we are commissioning unique research; and we are pledging to raise £2 million by 2023 to help more than 10,000 victims of abuse or neglect and to provide pro-bono legal support for at least 1,000 people. We are also positioning the charity in the centre of communities up and down the UK to ensure we can help when it matters most.
We have nearly 30 years' experience as Action on Elder Abuse, and over that time our work has touched tens of thousands of people. Our work has shaped government policy and it has amplified the issue in national press, but there is so much more to be done. That's why Hourglass is so vital.
Richard Robinson is CEO of Hourglass.
[1] The 'Growing old in the UK' survey of 2,494 people – commissioned by Hourglass – explores attitudes towards abuse and neglect of older people across England, Scotland, Wales and Northern Ireland. The full report will be released later this year.
This entry was posted in Abuse, Ageing, Safeguarding and tagged Richard Robinson by Stephen Martineau. Bookmark the permalink.