News image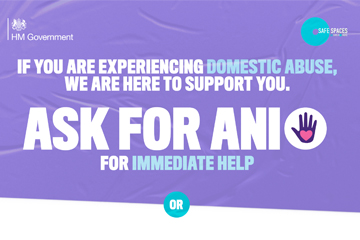 On 14th January, the government, working with independent pharmacies and Boots, have launched an initiative to help domestic abuse victims get the urgent help they need from the thousands of pharmacies across the UK.
The scheme, called "Ask for ANI" allows those at risk or suffering from domestic abuse to discreetly signal they need help, by asking a trained pharmacy worker for "ANI". They are then taken to a private space, where the appropriate help can be accessed, whether that's calling the police or the access of support services.
Hourglass is supportive of such an initiative; however, our CEO explains in his open letter below, it's imperative the pharmacy workers have access to appropriate support and ensure they have access to the right materials.
We would appreciate your support by writing to the Home Secretary Priti Patel to make sure the Government is aware of our willingness to help.
---
Hourglass response to the Home Office Ask for Ani
As I am sure you aware, the new codeword scheme, known as 'Ask for ANI' (Action Needed Immediately) launched by the Home Office [today] in partnership with community pharmacies, will see pharmacy staff receive training to offer a 'safe space' in their consultation rooms for victims escaping domestic abuse.
Hourglass strongly supports this new initiative as another tool in the box for tackling the upsurge in domestic abuse we've seen across the UK since the first national lockdown last March, which sadly continues during the current restrictions.
As accessible centres in most communities across the country, we agree that pharmacies represent an ideal network to offer an initial 'safe space' for victims looking to escape abuse in the home. Particularly in the case of older people, pharmacy staff are often known and trusted faces, and we are glad to see an element of training included within the programme rollout.
However, we also want to help make sure this scheme is able to offer every domestic abuse victim appropriate support.
While we must raise awareness of the codeword initiative, we also need to ensure pharmacies have access to the right materials – in a range of formats – so they can signpost victims to services that can give them tailored support to escape an abusive situation.
While we are disappointed that the Home Office did not consult widely with charities and other organisations that work with victims of domestic abuse every day before rolling out this initiative, we do appreciate that the Covid-19 lockdown situation demands a rapid response to safeguard potential victims, Hourglass would like the Government and its partners to draw on the enormous amount of expertise out there, so that we're not missing opportunities to help vulnerable people.
As you know, Hourglass is the only UK-wide charity that specialises in helping older victims of all types of abuse, including domestic abuse. We have almost 30 years' experience of working with older people and their families to stop abuse, whether neglect, physical, financial, psychological or sexual.
We want the Home Office and pharmacies to know that we're on hand to help with the codeword initiative. And that's where your support, as a friend of our charity, is vital.
We would really appreciate your support in making Government aware of our willingness to help, so that we can work with them to ensure pharmacies have all of the physical and digital signposting materials they need to put older victims in touch with us.
I have provided a pro forma letter below calling on the Home Office to engage constructively with Hourglass and other charities specialising in domestic abuse, so that pharmacies are provided with the materials they need to give appropriate support to victims of all demographics. This must include older people, because we know they are just as much at risk as younger people at the present time, if not even more so. We are asking for you to support Hourglass by sending this letter to public.enquiries@homeoffice.gov.uk
Let's make the codeword initiative a success, for the sake of all victims.
Yours sincerely,
Richard Robinson CEO