Landmark study reveals extent of challenges for people growing old in Northern Ireland and show's where's safest
The only charity focused on the abuse and neglect of older people in the UK has released a revolutionary Safer Ageing Index, in partnership with the Hallmark Foundation, which highlights the challenges people face when growing old in Northern Ireland – as well as ranking the safest areas by local council.
Mid Ulster is revealed as the safest place to grow old; with Fermanagh and Omagh the safest from a crime perspective. Belfast residents aged over 65 48% more likely to be victims of crime.
---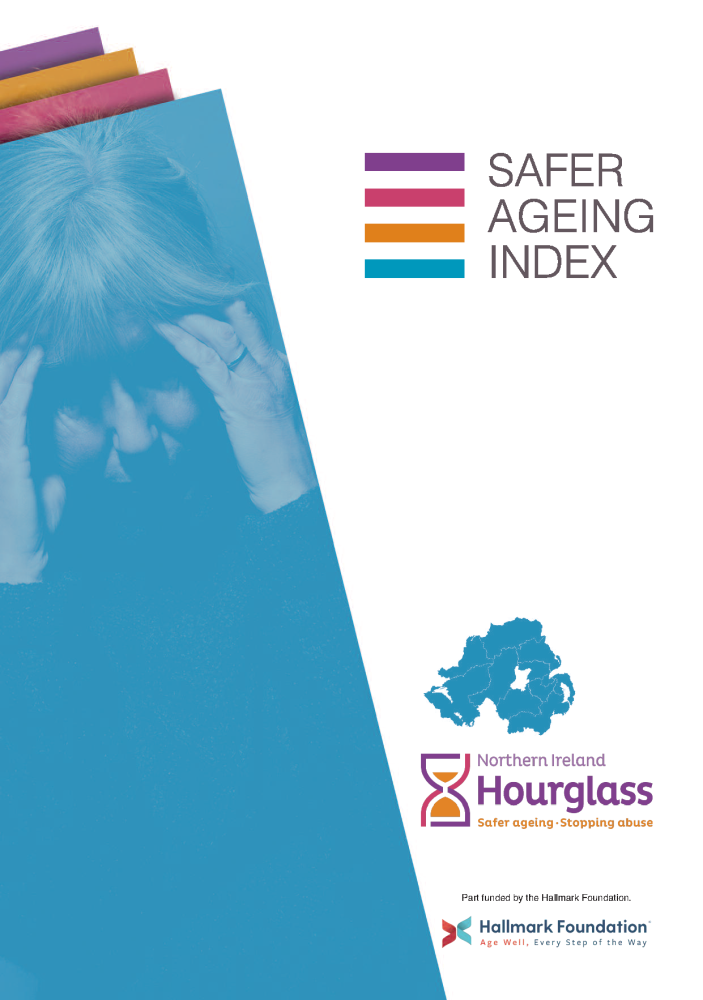 Safer Ageing Index Northern Ireland
This, the first Safer Ageing Index for Northern Ireland, highlights how the most vulnerable generation of people, so deeply affected by the pandemic and now the economic crisis, have another battle on their hands. And that is to live in a society that understands and flexes to the needs of an ageing society.
This Index, which will be re-issued every year, is a wakeup call to parliamentarians, assembly members and other influencers and policy-makers that older people cannot be the last in line. The charity, based in Newry in Northern Ireland and supporting all four nations, underlines that a Safer Ageing Agenda should be prioritised to ensure older people can continue to contribute both socially and economically to the Northern Ireland infrastructure.
---
Some of the key findings are as follows:
·        Mid Ulster, using a variety of measures, is the safest place to grow old in Northern Ireland.
·        From a victim of crime perspective Fermanagh and Omagh is the safest.
·        Over 65s in Belfast are 40% more likely to be living alone than the NI average.
·        Nearly a quarter of over 65s in Northern Ireland are living alone and in Belfast it's over a third.
·        Older people are 48% more likely to be victims of crime in Belfast than the NI average –
·        Over 65s are twice as likely to be economically active in Fermanagh and Omagh than in Belfast.
·        Over 65s in rural/coastal areas are more mobile and in less long term pain than their urban counterparts.
·        The most income deprived older people are more likely to live in rural/coastal council areas as opposed to urban.
·        Data collection has not recovered from Covid-19 this makes it difficult to understand and support older people fully if we are not fully informed or aware of their experiences.
·        Political attention is focused elsewhere and away from supporting older people in Northern Ireland.
---
The study comes off the back of the charity's successful Safer Ageing Week which aims to underline that the abuse and neglect of older people is an all-too-often overlooked and under prioritised issue. The week, this year from the 5-11 December, included an open letter from to the UK Prime Minister calling for more resources for this unique charity, its 24/7 helpline and the elder abuse issue in general. So far over 550 people have signed – including representatives from all of the UK political parties. The NI First Minister Designate, Michelle O'Neill, also wrote to the PM in November raising concerns about the charity's challenges. 
Hourglass, which takes in excess of 15,000 calls from victim survivors annually, is currently embroiled in a financial challenge, where the UK Government is asking the charity to compete against leading 'Violence Against Women & Girls' organisations for a share of a small pot. This, the charity says, underlines the lack of understanding of the abuse and neglect of older people.
Cara Hunter MLA (SDLP, East Derry) was amongst a number of politicians to offer her support for the index: 
"I wholeheartedly welcome the launch of the new Safer Ageing Index NI report which will show Councils across the North where the best places are to grow old independently.

"This is just one of the important pieces of work carried out by Hourglass to highlight the needs and challenges faced by older people here. From the support Hourglass provide, to their campaigning on ending abuse and neglect of older people, their work is crucial in our society."
Paula Bradshaw MLA (Alliance, South Belfast) added: 
"The launch of the Safer Ageing Index for NI is a welcome development that will help to identify problem areas so that we can better protect our elderly population. It clearly highlights the differences between our rural and urban communities, and the need to tailor support and provision at a local level."

"I am grateful to Hourglass for creating this index and for all it does to promote the safer ageing agenda in Northern Ireland. However, I am dismayed by the level of abuse that is currently reported to the charity and recent increases. This Safer Aging Week, it is clear that we need to do more to ensure that older people are protected and empowered to live rich lives.
"We should take this opportunity to examine the needs of older people, the services that are required and the crime figures. All older people have a right to age safely and free from abuse, and we should all expect nothing less for ourselves and our loved ones."
Carla Lockhart MP (DUP, Upper Bann) also commented:
"The NI Safer Ageing Index gives us unique insight into how we protect and support our most vulnerable generation. They are so often last in line and this report underlines that we have much to do and much to learn.
"We need to think about how we change our perception of older people and what ageing safely means. This isn't just about being independent and economically active, although that's important, it's about being free from abuse and neglect. This is why the fantastic work of Hourglass is so vital. They support people when they need it most and it's time we lifted the veil on this all-too-often hidden issue.

"We have known that our population is ageing for many years. But sadly, we have not made the investments that enable all of us to experience a society where safer ageing is a given. We need to change how we perceive ageing and take actions at all levels—from local councils and from a national perspective —to foster a safer ageing environment."
The Hallmark Foundation, which provides funding for initiatives that focus on ageing well, supported the development and construction of the NI Safer Ageing Index (alongside all four nation-based reports). Their CEO, Stephen Burke, commented:
"Wherever the growing number of older people live in the UK, they should be confident that they can age well and safely. Sadly, that is not true.

"This ground-breaking research highlights why these issues need to be much higher priority for all levels of government across the UK and where policymakers should focus attention. Updating the index annually will show older people, their families and communities whether progress is being made."
The Deputy CEO of Hourglass, Veronica Gray, who spearheaded the Safer Ageing Week initiative, underlined the charity's commitment to Northern Ireland:
"Hourglass wants the people of Northern Ireland to age safely, free from abuse and neglect and we want to work with communities, third sector colleagues, academics, statutory agencies, assembly members and parliamentarians to make a difference.

"This Index underlines the challenge ahead and with an older population that is set to rise sharply over coming years, now is the time to place safer ageing at the forefront of the policy agenda."