It is a common myth that you have to be wealthy to leave a gift to charity in your will, but it's simply a myth. Anyone can leave a gift in their will and no matter the size, it will have a significant impact on the work Hourglass does to promote safer ageing and stopping abuse of older people.
Leave a gift in your will
If you want to leave a gift in your Will, there are three different ways in which to do it. It's important that you consider the option which would be best for you and your loved ones and how you would like your legacy to be carried on. There's no wrong answer, it's all personal choice.
Writing a Will can seem daunting, but it's a helpful way to plan for your future and that of your loved ones. It helps you to decide what you want to happen and ensure that all of your loved ones are looked after.
The three kinds of gifts you can leave in your Will are:
A Residuary Gift

This is a percentage of your estate after gifts have been given to your family and friends. This is often a popular choice as its value remains in line with your estate at any given time. Also, its flexibility ensures your family and friends are looked after, whilst giving to the charity of your choice.
A Pecuniary Gift

This is where you donate a specific, fixed amount to a gift to your charity of choice. But, it is important to consider inflation as the value can decrease over time.
Specific Gift

This option enables you to leave the charity of your choice a particular gift or item, this can be anything from a personal gift, land, building, or stocks.
---
How to get started making a Will

There are a few options when it comes to making your Will. There are online services or you can instruct a solicitor; including our completely Free Wills scheme (see below)You can click here for the Government's Guidance.
You can also download our handy list to help break down what normally goes in a Will and it'll help you consider what you would like to gift to loved ones in the future. Download Our Will Planner 
Also, you can update your Will at any time, so if you already have one, and you would like to include Hourglass, you can still do this.
---
Free Will Scheme through Hourglass

Hourglass is partnering with a top-rated legal firm with over 35 years experience and 150 staff to offer a Free Wills scheme. Our legal partners cover all 4 nations and they will write your Will without any charge to you. If you felt that you would like to leave a gift in your Will to Hourglass, we would be very grateful.
In the UK, 54% of adults don't have a Will in place and only 6% leave a gift to a charity. It's hoped this scheme will ensure the wishes of the person who has passed away are adhered to as well as supporting charities with much needed financial support in the future.
Writing your Will couldn't be easier. Simply email legacy@wearehourglass.org or call 0207 7890 274 so we can take some details and then you can book an appointment with one of our partnering solicitors either online, by phone or video call. When the Covid-19 pandemic is under control it will also be possible to have an in person meeting if that works better for you.
---
How your gift helps fight safer ageing

Hourglass is the only charity in the UK exclusively dedicated to ending the abuse of older people. It's estimated that 2.7 million over 65 years of age experience abuse in the UK every year. We are here to help them.
 A gift in your Will could help Hourglass plan for the future, to ensure we're there for the UK's ageing population.
It will help us to keep our Helpline open to answer calls from older people living with abuse and their loved ones.
It will also help us to deliver one-to-one and group support in communities across the UK to help raise awareness of the abuse of older people, provide training for people working with older people, and deliver advice, guidance, and support to those who really need it.
---
Download your Will Planner here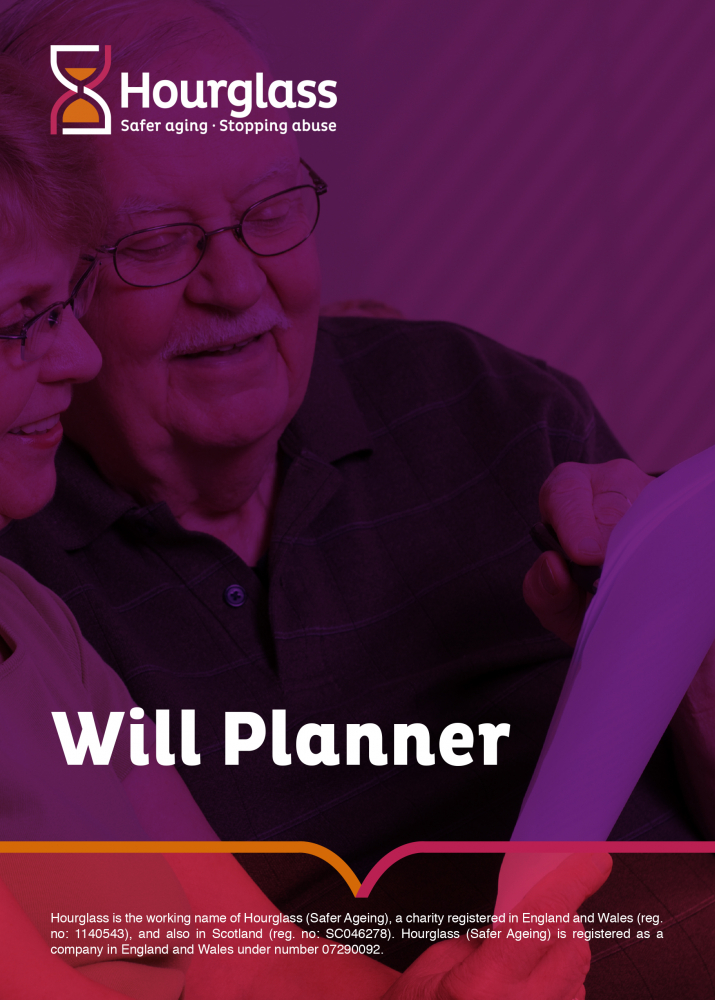 ---
Your gift could help us help someone like Hamish*.

Donald* called our Helpline for advice about his elderly father, Hamish*. He shared how he, other family members, and friends were being prevented from seeing his father.
Hamish has dementia, and has been in a care home for the past three years. Donald and most of his family were unable to see him during this period due to Hamish's other son, Roger*, abusing his position as Power of Attorney. Roger instructed all care staff to prevent anyone visiting Hamish. All health and social care staff complied with these instructions, on the understanding that this was the appropriate legal position.
Hourglass Scotland intervened and provided comprehensive casework support to assist Donald in challenging the isolation of his father. Through our experience of both the social care and legal systems in Scotland, we provided Donald with practical assistance, and also provided much-needed emotional support. As a result, an application was made to the local sheriff for Donald's legal Guardianship of his father. The sheriff immediately gave a direction that the ban on family and friends from visiting Hamish should be lifted, as the ban was not of benefit to Hamish and therefore inappropriate.  Hamish is no longer kept isolated from his loving family, and can see who he wishes. *details changed per the victim's request.
---
FAQS

Is making a Will complicated
Making a Will is a relatively simple process, which will involve a solicitor walking you through the steps. You will normally need a list outlining the key things you own and who you would like these to be left to, along with the current addresses of these people. This process will often only require one appointment with your solicitor.
You can also visit our Will Planner for further help in completing your Will.
How can I leave a gift in my Will for Hourglass?
Thank you for considering leaving a gift in your Will to Hourglass. Hourglass can be included in your Will in the same way as any other beneficiary. You should include our charity name, address and registered charity number. To make this easier, you might consider using this wording:
I leave [amount] to:
Hourglass (Safer Ageing),
Mayflower Hall,
Hall Street,
Long Melford,
Sudbury,
Suffolk,
CO10 9JT
Registered charity number: 1140543 and SC046278, for its general charitable purposes absolutely.
I already have a Will, can I update it to include Hourglass?
Yes! You can do this, and make other small changes, using a document known as a Codicil. A Codicil is a document used to amend a Will, which prevents you having to re-write it. This must still be witnessed just as writing your Will was, but it can be cheaper and quicker than completely re-writing it. Please contact us to find out more about Codicil documents.
I want to write my Will, but I'm not sure what to do?
Making a Will is a straightforward process, which will involve a solicitor walking you through the steps. You will normally need a list outlining the key things you own and who you would like these to be left to, along with the current addresses of these people. This process will often only require one appointment with your solicitor. You can also visit our Will Planner  for further help in completing your Will.
How frequently should I update my Will?
It is generally a good idea to update your Will after any major life event (such as buying a new house), or otherwise revisiting it every five years. It is worth noting that if you marry after writing your Will, you will need to write a new one, as marriage legally invalidates any pre-existing Will.
Who can I choose as executor(s)?
An executor(s) are the people named in a Will who are legally responsible for carrying out the instructions left in the Will. It is therefore a good idea to choose people you trust, and who are good with paperwork. It is recommended that you have two executors, as although you may legally have up to four, this can complicate things and be difficult to manage. An executor must be an adult (aged over 18), and may include people who benefit from your Will. You can also appoint a professional to act as your executor, but this will normally incur a charge.
Download Our Will Planner
To ensure you get the most from meeting with your solicitor when discussing your Will, we have put together a checklist. It's important you gather your thoughts and have an idea of whom you'd like to benefit in your Will. This guide can be used as a reference in your meeting, but please note it is NOT a legal document and is not a substitute for a valid Will. Download the planner HERE
Thank you
We know your legacy is important to you and giving a gift to Hourglass through your Will is very much appreciated. It will enable us to continue to campaign for safer ageing for all and help those older people who have been victims of abuse.
If you have any questions, or would like more information about leaving a gift in your Will to Hourglass, please email us at legacy@wearehourglass.org or call on 0207 7890 274
---